Get ready to fall in love with the Forest River Cherokee travel trailers for sale at Sun Camper RV. These travel trailers feature beautiful interiors, spacious living, and ample sleeping and storage space. Find out more reasons to love these fantastic campers in this Forest River Cherokee travel trailer review.
Double-Sized Bunks 
The kids will love having a space all to themselves with the spacious, double-sized bunks.  These bunks feature premium Teddy Bear bunk mats that create a cozy space for anyone to catch a little shut-eye.  The bunk windows come equipped with light-filtering, sheer shading, black-out zebra blinds that are easy to close and open to allow in the natural light.  Climbing into the top bunk is easy with the ladder that has been installed for your convenience.
Gorgeous Living Space 
The 40″ U-shaped dinette and sleeper sofa that are positioned in the large wall slide gives you ample living space for your camping adventures.  You can easily enjoy a family dinner at the dinette, or break out the board games and enjoy some quality time with the family.  The LED lighting above the slide makes a perfect night-light for anyone who needs to get a glass of water without waking the family.  Additionally, you'll love the finishing touches like the beautiful designer backsplash, the black, farm-house style stainless steel kitchen sink, and double-door refrigerator.
Spacious Bathroom 
Whether you have a large family or you enjoy multi-family vacations, the bathroom space is always in high demand.  That's why you'll love this spacious bathroom in the Forest River Cherokee.  The standing shower stall has a large skylight overhead to allow in the natural lighting.  The towel hooks and medicine cabinet give you plenty of room for all your necessities, and the vent fan will help to keep the humidity down on those hot days after a shower.
Sleeping for Ten
Now, you can finally plan that family vacation you've been dreaming of, with the Forest River Cherokee travel trailer.  These outstanding trailers sleep up to ten campers, which makes them ideal for families with a lot of kids, or multi-family vacations!  So, grab a few friends and start planning your ultimate getaway in one of these spacious trailers today!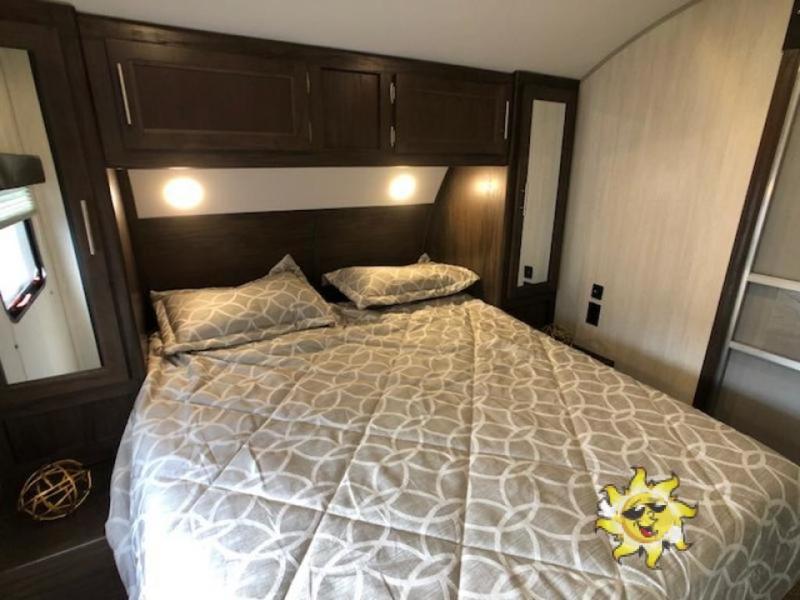 If you're ready to take home a travel trailer that can fit all your needs and provide space for your whole family to sleep comfortably, then contact us today. Find more travel trailers for sale at Sun Camper RV.